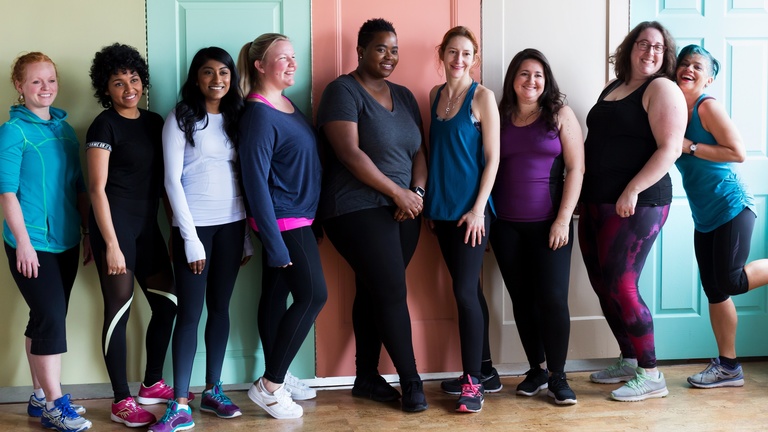 This project aims to scale up our successful community-engaged project Active Ottumwa across Iowa by creating materials that micropolitan community leaders can use to implement physical activity programs in their communities.
Team members:
Project dates: 2019-present
Funding sources: UI PRC-RH
Project tags: Physical activity; Evidence-based interventions; Community engagement; Lay health advisors
Details
---
Description
Active Iowa is a translation project to improve the usability of a package of program materials to promote physical activity among adults in micropolitan communities. Active Iowa builds on the UI PRC-RH's previous successful community-engaged project, Active Ottumwa, which encouraged adults to become more active in the micropolitan community of Ottumwa, Iowa. The project supported accessible, affordable, and sustainable physical activity for adults. Evaluation of the Active Ottumwa project showed residents moving from being inactive toward doing light physical activity, like walking.
To translate Active Ottumwa's success to other communities, the Active Iowa team created a package of program materials for use by micropolitan community leaders. This package was reviewed by micropolitan community leaders interested and/or experienced in implementing physical activity programs. Changes were made based on feedback to improve the package's adoptability, implement-ability, and sustainability.
Materials will guide micropolitan communities in leveraging resources to train local volunteers as Physical Activity Leaders (PALs) to hold free physical activities throughout their communities. The specific materials in the package include:
A Manual of Implementation

COVID-19 and virtual physical activity addendums to the Manual of Implementation

A series of supplemental trainings which dive further into the foundational lenses of the program (i.e., health equity, social determinants of health, cultural humility, and accessibility) and give practical advice for program implementers to try in their communities

Templates for training Physical Activity Leaders and other plug and play documents for marketing and evaluation efforts to support the program

A social media toolkit and accompanying graphics to support program implementers in sharing information and program updates on the four chosen social media platforms (Facebook, LinkedIn, Twitter, Instagram)
A website housing this packet of materials can be found here. 
Resources, Media, & Publications 
Resources:
A Community on the Move: The Story of Active Ottumwa

 - 

T

his ten-part podcast series tells the story of Active Ottumwa, a community-based physical activity intervention for adults in the micropolitan community of Ottumwa, Iowa. In this podcast series, we hear from community leaders, researchers, program participants, and program Physical Activity Leaders on the ins and outs of the Active Ottumwa project and where this project is going next.

Active Iowa Package of Materials - 

The Manual of Implementation, supplemental trainings, and additional program templates provide a package of materials to help you adapt and implement Active Iowa in your community. The Manual of Implementation includes information on the program's background, evidence-based strategies that can be used, how to adapt these strategies to your community, and how to evaluate, implement, and sustain the program. 

Additional packaged materials include appendices to the Manual of Implementation, a series of 5–15-minute videos with additional tips and tricks for program success (i.e., supplemental trainings), and plug and play documents that can help you get your Active Iowa program up and running. 

 
Presentations:
Bucklin, R., Shultz, H., Richlen, M., Berto, S., & Askelson, N. Active Ottumwa: A community on the move, using podcasts to highlight a physical activity intervention in a micropolitan community. Oral Presentation at: Public Health Conference of Iowa: April, 2021; Virtual
Posters:
Gauthreaux, N., Bucklin, R., Correa, A., Ball, C., Askelson, N. (2022, May 3). Examining physical activity program readiness and resources in micropolitan Iowa communities. Public Health Conference of Iowa, Ames, IA: May 3-5, 2022