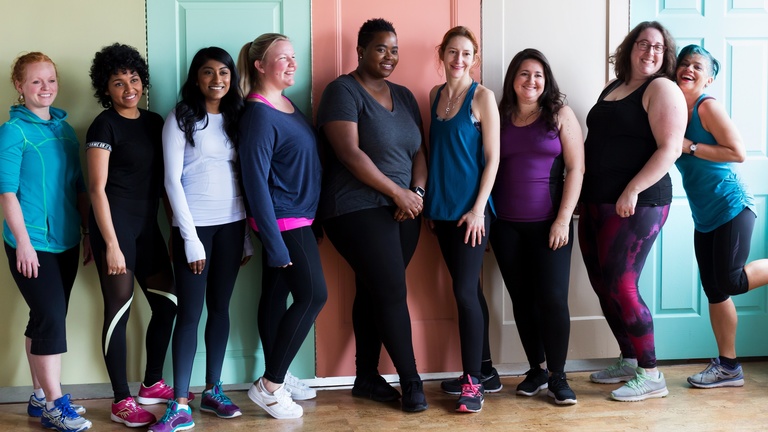 Team members:
Project dates: 2019-present
Funding sources: UI PRC-RH
Project tags: Physical activity; Evidence-based interventions; Community engagement; Lay health advisors
Details
---
Description
Active Iowa, part of the UI PRC-RH's core research project for the current 2019-2024 funding cycle, is a translation project to improve usability of materials to promote physical activity among adults in micropolitan communities. Active Iowa builds on the UI PRC-RH's previous, successful community-engaged project, Active Ottumwa, which encouraged adults to become more active in Ottumwa, Iowa. The mission of the project was to support accessible, affordable, and sustainable physical activity for adults in the community. Evaluation of the Active Ottumwa project indicated a significant shift of residents away from inactivity to light physical activity, like walking.
To translate Active Ottumwa's success to other communities, Active Iowa has created program materials for community leaders in micropolitan communities. To ensure these materials fit the needs and available resources of those communities, the materials are reviewed by leaders of micropolitan communities for feedback and guidance. Reviewers are helping to improve the adoptability, implement-ability, and sustainability of materials to assist in future scale-up of the Active Iowa intervention. These materials will guide micropolitan communities in leveraging their community resources to train local volunteers as Physical Activity Leaders (PALs) to hold free physical activities throughout their communities. Through the lens of health equity, social determinants of health, cultural humility, and accessibility, community Active Iowa programs will support adults in micropolitan communities to be more physically active. The specific tools to be tested and enhanced include a Manual of Implementation (MOI), COVID-19 and virtual physical activity addendums, and supplemental trainings which build on the MOI by diving further into the foundational lenses of the program and giving practical tips and tricks for program implementers to try in their communities.
This project engages key community leaders in 17 micropolitan communities in Iowa as reviewers of Active Iowa materials. We will assess leader perceptions of the advantage of Active Iowa over other physical activity programs, Active Iowa's adaptability, design quality and packaging, cost, and complexity. We will explore what technical supports are needed by adopters to successfully implement Active Iowa and identify who might be best positioned to provide this support. By incorporating the feedback of community leaders, we will adapt the tools to better fit the needs of potential adopters, leading to greater likelihood of future implementation and sustainability of the Active Iowa intervention by communities.
Once the Active Iowa materials have been further reviewed and adapted, translation channels will include outreach to community leaders in micropolitan communities and public health practitioners in micropolitan communities in Region G (Iowa, Kansas, Nebraska, and Missouri).
---
Resources, Media, & Publications 
Resources:
A Community on the Move: The Story of Active Ottumwa: This ten-part podcast series tells the story of Active Ottumwa, a community-based physical activity intervention for adults in the micropolitan community of Ottumwa, Iowa. In this podcast series, we hear from community leaders, researchers, program participants, and program Physical Activity Leaders on the ins and outs of the Active Ottumwa project and where this project is going next.
Presentations:
Bucklin, R., Shultz, H., Richlen, M., Berto, S., & Askelson, N. Active Ottumwa: A community on the move, using podcasts to highlight a physical activity intervention in a micropolitan community. Public Health Conference of Iowa. April, 2021

Gauthreaux, N., Bucklin, R., Correa, A., Ball, C., Askelson, N. Examining physical activity program readiness and resources in micropolitan Iowa communities. Public Health Conference of Iowa. May, 2022