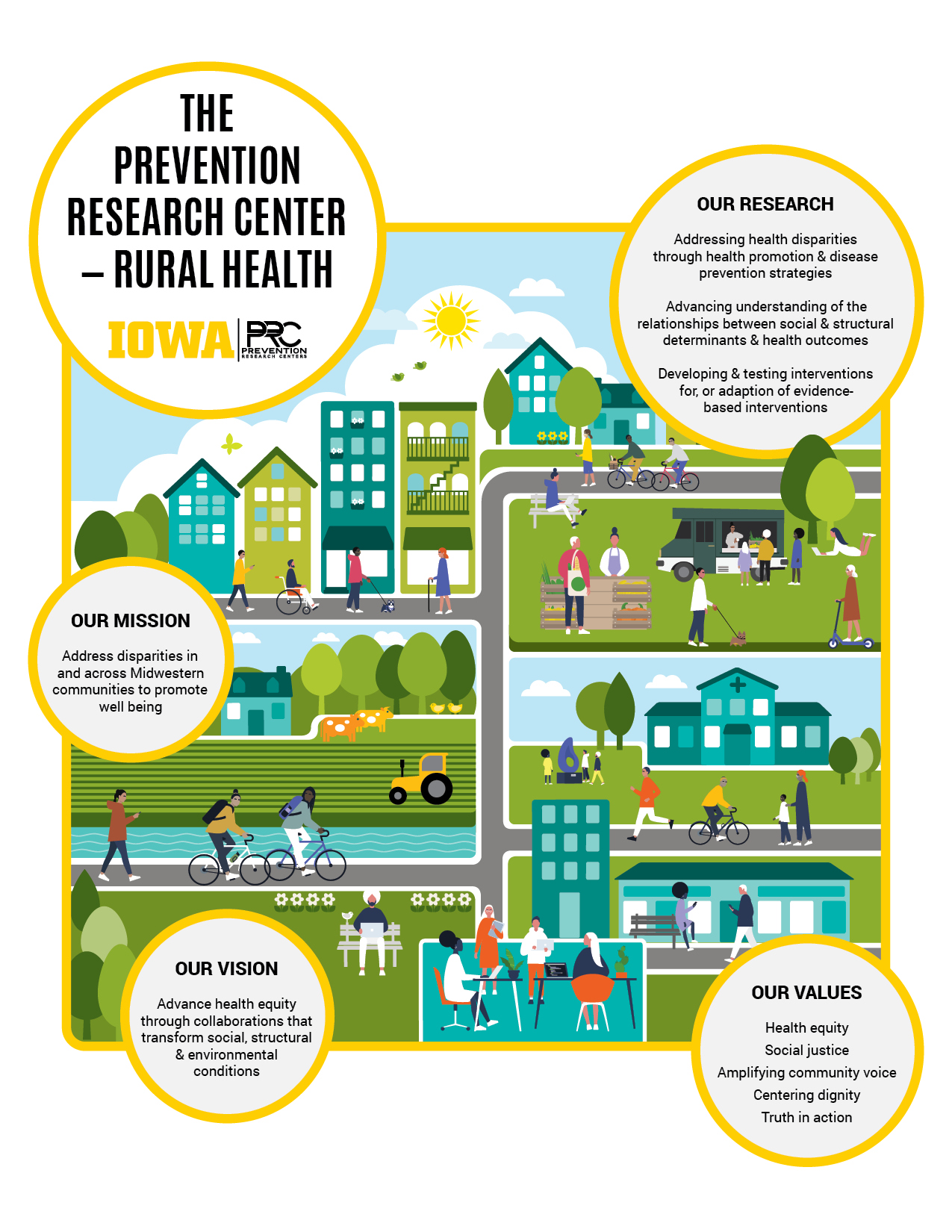 Why focus on rural health and wellbeing
Place matters. The places we are born, grow, work, live, and age influence our health and wellbeing. Factors such as economic opportunities; access and quality of transportation, housing, education, food, and health care; community connections and sense of belonging; and clean air and water are critical to people's ability to thrive.
Compared with urban communities, mortality from all causes among adults is higher in rural communities and is increasing over time (whereas it is decreasing in urban communities). The specific mortality from the five leading causes of death in the US – heart disease, cancer, stroke, chronic lower respiratory disease, and unintentional injuries – are also higher in rural communities. Death rates for children living in rural communities are 25% higher than those for children living in urban communities. These health inequities are a result of social, economic, and structural determinants of health. As examples, rural communities have higher rates of food insecurity and homelessness, less access to transportation or other resources needed to access services, and lower median incomes. Public spending on social services, such as education and parks, in rural communities is significantly lower than that in urban communities.
These disparities in determinants and inequities in health outcomes are unfair, unjust, and critical to address to promote wellbeing for rural communities.
Yet, focusing only on disparities misses the vitality, vibrancy, and diversity of rural areas and their importance to the fabric of the US. Rural places are centers of culture, innovation, beauty, and community. To hear more about the vitality of rural spaces, connect to our podcast about rural life.
Our approach in Iowa and the Midwest
The Prevention Research Center for Rural Health works with and centers rural communities. According to the US Census Bureau, about 20% of the population in the US live in rural areas. Of the 99 counties in Iowa, 90 of them are classified as rural.
In rural areas, micropolitan communities (populations between 10,000-49,000) are hubs for education, employment, and connections for smaller rural communities. At the PRC-RH, we partner with micropolitan communities across Iowa. By supporting public health in these hubs, we can also reach the surrounding rural communities.
Boone - Burlington - Carroll - Clinton - Fairfield - Fort Dodge - Keokuk - Marshalltown - Mason City - Muscatine - Newton - Oskaloosa - Ottumwa - Pella - Spencer - Spirit Lake - Storm Lake
Our approach to promoting rural health highlights these main principles:
We center rural and micropolitan communities in the Midwest.

We focus on the warmth, strengths, and assets of rural and micropolitan communities.

We listen to and magnify the many nuanced stories, voices, and experiences of residents of these places and work in service to their identified needs to promote their wellbeing.

We work in partnership with communities using a community engagement research and practice model.

We collaborate with the public health workforce to advance adaptive, respectful, and informed leadership that enables health and dignity for the diversity of our population.

We research, support, advocate for, and craft program and policy solutions that advance health equity by confronting root causes.

We advance a non-othering, anti-racist world.
For more on our approach to rural health and well-being, check out this paper "Reimagining Rural: Shifting Paradigms About Health and Well-being in the Rural United States."